Uri
Voiced by Serra Hirsch (English version)
and Benedetta Ponticelli (Italian version)
Age (at first appearance):
15 stars old
Personal Color:
Yellow
Powers:
Natural Fly:


Flower Fly (plants growth)

Hydro Fly (underwater breathing)

Meteo-Fly (weather control)

Multi-Beast (turns into an animal)

Prism Fly (wings spread yellow chromatic essence)

Rival Devil:
Cabiria
Assigned Earthly One(s):
Jennifer (Geneva)
Uri
(
Urié
in Italian) is a supporting character of the
Angel's Friends
series. She is a 99% Angel, who has arrived on earth in order to earn the percent she needs to become an complete 100% Guardian Angel. She is
Raf
's best friend, and a part of the group called Angel's Friends.
Appearance
Edit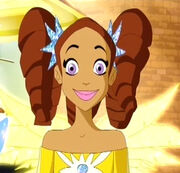 Uri appears like as an attractive teenage African-American Angel with amber skin, lavender eyes and long curly dark brown hair. Her style is that of a flower-child, being colorful and decorated in flowers. She typically dresses in yellow, but she also enjoys orange and green.
Personality and Interests
Edit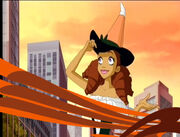 Cheerful, spontaneous and contagious vitality, is a free spirit and is very sociable. Unconventional in the most positive sense of the term, Uri does not follow the fashions of the moment and has a distinctive style that reflects her great love for nature in all its forms.
She loves photography, always carries her Digi-dream, which can not only take pictures of real things, but also to dreams. Sympathetic, sensitive and somewhat 'naive, is the dreamer of the group although her insights can sometimes be brilliant and decisive.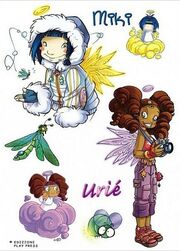 Urie is younger, at 11 stars (years). Like in the cartoon, she enjoys using her Digi-dream camera. In the Angel's funk band, Uri plays the drums.
Community content is available under
CC-BY-SA
unless otherwise noted.