Sai
Voiced by ? (English version)
and Cristiana Rossi (Italian version)
Powers:

Agilis Wing (avoid attacks)
Ignis Wing (creates fire)
Sai
is a supporting character in the series
Angel's Friends
.
Appearance
Edit
She looks a lot like Sulfus (she has blue hair and a star tattoed on one of her eyes).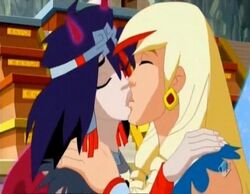 Sai was an ancient Devil who lived in the Aztec era. She fell in love with the Angel Tyco but, unlike him, she isn't afraid of admitting her feelings. After committing sacrilege kissing Tyco, she was expelled from the diabolic world. With her beloved, she undertook the Path of Metamorphoses to become an Earthly one and live with him, but, even though they reached the end, they failed and Tyco was obliged to go back without her. Sai remained at the end of the Path, forced to be miserable for life. Before leaving Sai and Tyco both exchanged pets as a sign that they would never be apart from each other in spirit.
Many years later Tyco, along with Raf and Sulfus's friends came back to the gate after the pair had destroyed the evil wind and the opened the doors, Tyco then took the opportunity to go back into the Path to look for Sai.
Community content is available under
CC-BY-SA
unless otherwise noted.