Miki
Voiced by Lisa Ortiz (English version)
and Marcella Silvestri (Italian version)
Age (at first appearance):
14 stars old
Personal Color:
Blue, yellow and green
Powers:
Defense Fly:


Wall Fly (defensive wall)

Gummy Fly (returns attacks to opponent)

Sticker Fly (shots adhesive labels)

Prism Fly (wings spreads green chromatic essence)


Angelic Powers:


Ice (creates and release ice from nothing)

Rival Devil:
Gas, then Sulfus
Assigned Earthly One(s):
Matthew (formally), Andrew (currently)
Love Interest(s):
Gas
Miki
(same in Italian) is a supporting character of the Angel's Friends series. She is a 99% Angel, who has arrived on earth in order to earn the percent she needs to become an complete 100% Guardian Angel. She is
Raf
's best friend, and a part of the group called Angel's Friends.
Personality and Interests
Edit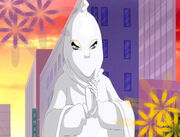 She is more of the 'laid back' type. She is a sort of tomboy, compared to the rest of the group. It seems a little like she flirts with Gas a bit, and scolds him a little.   
Appearance
Edit
Miki wears sporty clothes, she likes flared pants, large sweatshirts and t-shirt. Her blue hair is gathered in a braid that falls on her right shoulder; a tuft is stopped by some colored pegs, one of which is star-shaped. She has light blue eyes and her colors are Blue, yellow and green.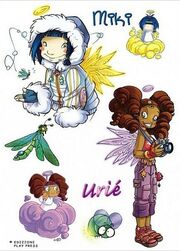 Miki is younger, at 9 stars (years). She is a good musician, and plays the bass on the Angle's funk band. She was held back a year for breaking the V.E.T.O., by trying to heal her Earthly one.
Community content is available under
CC-BY-SA
unless otherwise noted.